PV Volleyball Off to a Great Start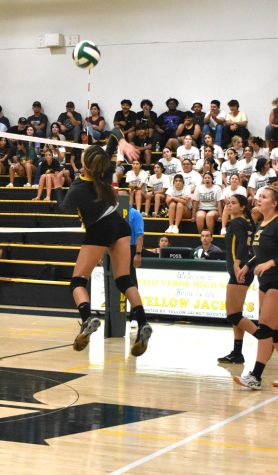 Stands fill last Thursday as our PV Volleyball team lines up to face Vincent Memorial. They had a terrific night starting their league games out with a smash. Junior Varsity won 2-0 and Varsity also had a great win of 3-0. Our Yellow Jackets showed amazing sportsmanship tonight and always, win or lose. Home games or away, our girls always make sure to be respectful and play fair. 
They work together as a team. Constantly working and training to improve as a whole and motivating each other along the way. Varsity's Samantha Lopez #11 says, "I Love that we all push each other to communicate as a team.". Arianna Salazar, Junior Varsity's #20 says that a piece of advice that her coaches have told her that has stuck with her is "If someone tells you, you can't prove them wrong and do it twice as much.". Now that the league has started the pressure is on. With the help of their coaches, teammates, and supporters, PV can succeed and go far. We wish our teams good luck this season.