Meet PV's New School Resource Officer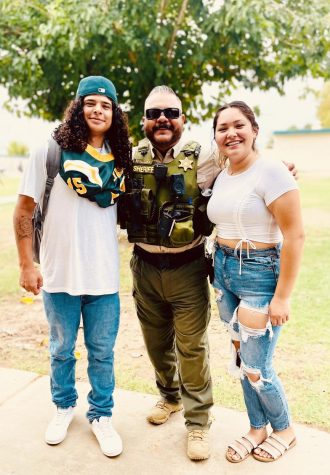 Palo Verde High School has a new School Resource Officer (SRO) on campus who goes by the name of Deputy Ruvalcaba. Deputy Ruvalcaba attended both Palo Verde High School and Twin Palms, graduating from Twin Palms. Being raised with family members working as officers had an influence on Deputy Ruvalcaba to become a member of law enforcement. He is now the third generation in his family working in law enforcement. Deputy Ruvalcaba has worked in law enforcement for 17 ½  years. However, this year is Deputy Ruvalcaba's first year being the SRO at PVHS. 
The goals Deputy Ruvalcaba is working to achieve are to help with the students' safety and do as much as possible to help the students be someone or do better in life. Deputy Ruvalcaba says, "being an SRO is different from working patrol assignments because the students are good and listen more than most grown-ups I've dealt with." For instance, he would rather build up a good rapport with the community than be known for being  a "bad cop." Deputy Ruvalcaba is building up relationships with the students now that they are getting familiar with him being here. The students have a good relationship with Deputy Ruvalcaba. We wish Deputy Ruvalcaba a good year.