Boys Golf Season!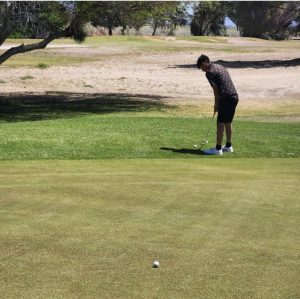 The 2023 golf season was contributed by a strong group of boys that kept themselves motivated for all their matches. The Varsity team consisted of Adyan Cavazos, Chance Padilla, Jon Tennefos, Spencer Cyr, Jarred Hull, Gabriel Agustan, and Khalil Copple. Since this season has come to an end many of these boys have improved tremendously throughout the duration of the season. Where head coach Troy Peterson had a few words to say about this season overall. "Many of my players have improved this entire season, such as Chance Padilla, Jarred Hull, and Adyan Cavazos where he was scoring in the high 40s and brought it down to the low 40s." They played schools such as Southwest, Vincent Memorial, Brawley, Holtville, and Imperial. During the season they had a 10-2 record. Stated by Coach Peterson "we unfortunately didn't win the league title which was a bummer but we were missing some big parts of the team and overall the boys had a good time." The boys golf team always kept themselves motivated in order to have a good time at their home and away matches. This team practiced as long as they could in order for them to improve their golf game. Players improved mainly on their chipping and putting by the end of this season. Having a goal or goals set for something is very important to keep yourself or someone else positive. Gabriel Agustan states, "my goal for this year was to make CIF, and I did make CIF where I scored decently even though I could have done better." Having goals for yourself is going to help you with confidence and make you feel accomplished toward the end of the season. "In order to have goals you need to have the mindset for it and make the most of it," stated Coach Peterson. Another player who had a goal set for himself is Adyan Cavazos saying, "this season I had a goal and that was to shoot for low 30s." Palo Verde then traveled to Borrego Springs, Rams Hill Country Club to play in their last match of the season. Gabriel Agustan and Adyan Cavazos played in the CIF individual match with other schools from the Imperial Valley. Gabriel scored a 44 and Adyan scored a 41 on their very last golf match of the season.
Through the last few matches these boys have made the best memories with their team and coach. There will always be a favorite moment or part that they will cherish. "The best part of this season was the van rides and getting food after the match because Peterson would pay for all of our food," stated Gabriel Agustan. Having fun in a sport is the most important because it brings the team together and helps them bond more with each other. Adyan Cavazos states, "my most favorite part of this year was the van rides because I got to talk with the guys and we would always have a good time." As the season ends these players have learned a lot from Coach Peterson. Adyan Cavazos stated, "I would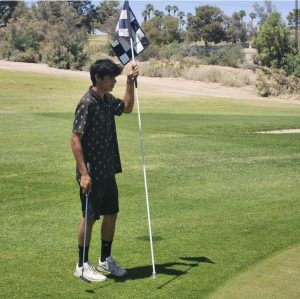 like to thank Coach Peterson because he would always push me to the best of my abilities and always do the best that I can." Along with Gabriel Agustan saying "Peterson always wanted me to stay consistent with whatever I needed help with and to put in the effort to get better." Coach Peterson has been a huge part of PV Athletics and always encourages his players to stay motivated, focused, and positive in whatever they need to get done. Coach Peterson now waits for next season to arrive. He always wants his boys "to do their best and to rebuild a strong team for next season." Next year will be mainly a rebuilding season because they are losing a couple seniors this year. Whereas Coach Peterson wants to always make sure his team does the best they can. Peterson also states "don't always let a bad day get to you, take control and put in the effort to make it a good match for you." Finally, the boys golf team had a fun season overall with home and away games, going out to eat, and just having a good time with each other's company.