Back to Back Rings for Girls Basketball !!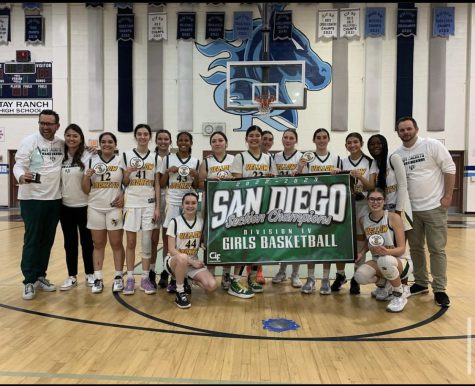 Palo Verde's Girls Basketball Team goes back to back and ends another great season by winning another ring in the CIF San Diego Section Division 4 Championship. The Yellow Jackets had an amazing run through the playoffs that ended with a 71-65 win against Central in the championship game. This marks the second year in a row that our Girls have been CIF champions winning back to back rings. Some of the athletes had some of their feelings and thoughts that they wanted to share reflecting on this year's season.
     Junior athlete Maryjane Dagnino shared her thoughts on a few questions she was asked related to the season this year. "It went better than expected but we had some games that could've went our way…but we pulled through as a team and were able to achieve what we did." She shared that she feels "very confident" in her team going into next year saying, "we have a good team returning, we could definitely practice a lot more to get even better though." She feels like the team can get even better. She is optimistic going into next season after a very impressive season that she put together this year.
     Senior Baylee Johnson also shared her feelings on a very special senior season for her. "I feel like the season went just as we expected, going into the season we knew we could be CIF and league champs but we also knew it wasn't going to be easy." The team lost a couple of key players but fought through it. Baylee said she physically prepares for a game by "only drinking water or Powerade leading up to the game and taking a 2-3 hour nap before every home game." Making sure that she feels 100% ready on gameday is very important to her. Baylee is glad that she got to end her senior year by winning another ring.
     Junior Charlie Dagnino was very proud of her team this year and also shared her feelings on this season. She feels the season went "very well" and said "we had our struggles and some tough losses but they only made us better in the long run." The team did their best to use each loss as a learning experience. Charlie shared that her way to mentally prepare is to "try to block out all distractions and just focus on doing what I love." She doesn't let any outside noise throw her off of her game come gameday. Going into next season Charlie feels like the team is going to "be just as good if not better". She had a lot of praise for her teammates saying, "Our team chemistry was unmatched." They all grew up playing together and "it clicked instantly" she says "it feels like we've played together our whole lives."  Going into next season she is ready for the challenge saying "Although we will most likely get moved up to D3, the challenge will only motivate us more to win another championship." Charlie is looking forward to her Senior season next year and hopes that her and her teammates can bring home another championship.
     These girls have made history by winning back to back CIF championships and they aren't close to being done yet. They feel like they can run it back again next year and complete the three-peat. The team meshes together so well and they all love playing with each other which makes next year an exciting season to look forward to. A very special shout out goes to MJ Dagnino who was awarded the NFHS Player of the Game along with Jessica Walton winning the CIF Sportsmanship Award.