Lezly Sosa-Bejarano Takes Top Award at Section Round of FFA Contests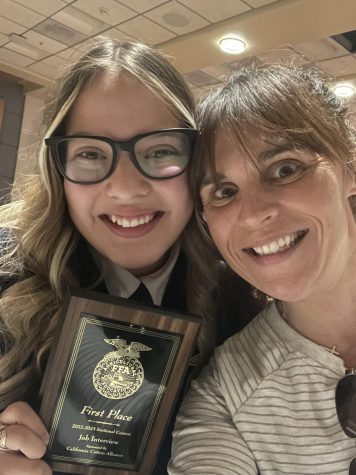 Lezly Sosa-Bejarano came out on top at this year's Imperial Section FFA Speech Contests. Competing in the category of Job Interview, Sosa-Bejarano beat out competitors from chapters throughout the Imperial Valley to bring home the top prize. Chapter Adviser, Mrs. Maxfield shared, "Words cannot describe how proud I am of this girl!" She went on to add that Sosa-Bejarano will now go on to compete at the Southern Regional contest, a competition held for FFA students throughout a wide swath of Southern California.
The local Blythe Chapter FFA represents the students of Palo Verde High School in contests and activities at the local, regional, state, and national levels, in a wide array of areas ranging from topics pertaining to agriculture to areas of personal growth and leadership. Approximately 10% of the Palo Verde High School campus participates in FFA/Ag programs while attending PVHS. For more information about how you can become involved with FFA, talk to your counselor, or stop by and see Mrs. Maxfield. If you see Lezly around school, make sure to congratulate her on her outstanding achievement. Jacket Pride!